I've been waiting for this for a long time and I'm so excited that it's here!
I recently started reading chapter books with the boys (mostly Miles, 4.5). I love reading and while we've always read books with the boys, I've been waiting patiently to experience reading longer books with more complicated stories with them.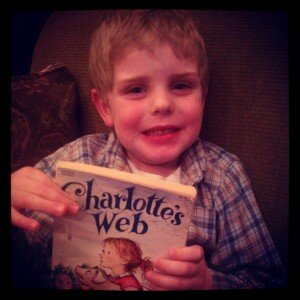 Our first book that we read together was Charlotte's Web. It was my husband's childhood copy of the book, which makes it even more special. After we finished the book, we watched the 1972 cartoon adaptation of the book and it was so much fun to watch him as he recognized the characters ("There's Templeton the rat!!!" and "Oh! Oh! There's Charlotte!!!").
We are now halfway through The Boxcar Children, one of my favorite series'. I got some great suggestions when I asked on , but I'd love to know what other books you would suggest reading with a 4-6 year old.
Do you read chapter books with your kids? At what age did you start? What's your favorite chapter book for kids?