It's been almost 10 months since the Octonauts entered our family's lives and my boys are still absolutely bananas over those loveable little deep sea explorers! We've already had one Octonauts-themed birthday party and if the obsession continues, we might have another one in February!
I wasn't at all surprised when I asked the boys what they wanted to dress as for Halloween and they both promptly replied "OCTONAUTS!" The only problem was deciding which Octonauts character to choose! After much deliberation, Miles decided to go as Captain Barnacles (a polar bear) and Spencer as Peso Penguin.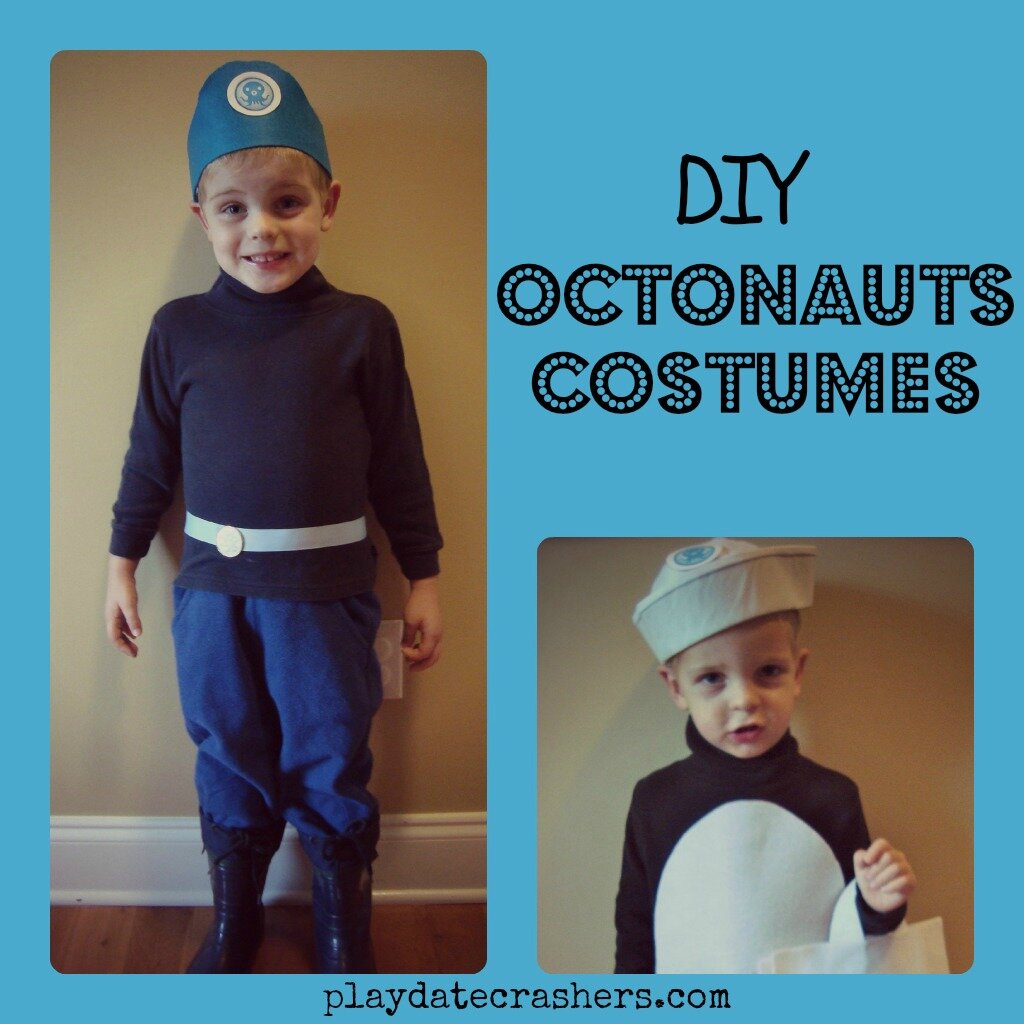 I realize they will get a lot of "…*stare*…And who are you supposed to be??" questions this Halloween, but what should I do? This is what they want! They can bill me later for the therapy sessions from having
costumes that suck, of the Unidentified variety
.
Captain Barnacles
Miles's costume was very simple to put together. Here's what I used to assemble his costume:
Dark blue turtleneck and pants (from the closet)
Dark blue rain boots (purchased at Once Upon A Child)
Homemade Octonauts hat (using felt and a printed Octonauts logo from UnderseaHeroes.com)
Belt with faux Octo-compass (using ribbon from my craft/material stockpile and a golden plastic coin from our dress-up items)
Scissors, glue, and

The most difficult part to put together was of course the hat. I used the same basic idea from Spencer's Octonauts birthday party earlier this year except I used felt for longer durability. I'm sure there's a way to make it better, but I'll be honest – I wanted quick and easy. I used Heat'n Bond to put the pieces of the hat together and glued on the logo. The "Octo-compass" is just a coin glued to the ribbon.
Peso Penguin
Spencer's costume was a little more difficult but was still very simple. Here's what I used to assemble it:
Black turtleneck (the same one we used for Miles's Mickey Mouse costume last year, actually!) and pants (from the closet)
Dark blue/turquoise rain boots (also purchased at Once Upon A Child) and YES I realize Peso doesn't wear boots but my son insisted on boots.
White sailor's hat, turned inside-out, from our dress-up bin with an Octonauts logo attached to it
Felt on the shirt's front
Felt (and another Octonauts logo) for the medical bag. I would have used a small white box with a handle if I'd had one, but decided this would work too!
Scissors, glue, and more Heat'n Bond

I cut out a large oval of white felt and used Heat'n Bond to attach it to the front of the black turtleneck.
I got lazy-creative with the little felt medical bag and just whipped something up with the Heat'n Bond. As you can see in the photo, the Heat'n Bond didn't hold perfectly, so I need to fix that before Halloween.
Edited to add:  I did end up going back and fixing these by crappily stitching the penguin belly, medical bag, and hats because I didn't trust the Heat'n Bond to hold up through wearing their costumes 2-3 times for multiple events.

Here's a photo of the whole Octonauts gang. How did I do with the costumes?
For more Octonauts costume inspiration, check out UnderseaHeroes.com!
*Post contains affiliate links*