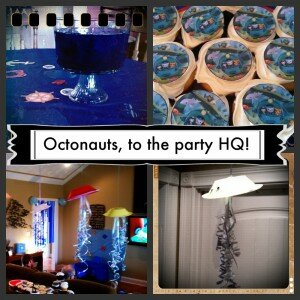 My boys are Octonauts NUTS.  They can't get enough of this new show on Disney Junior and even though Miles has already requested an Octonauts birthday party for his big day in July, I decided to go ahead and do this theme for Spencer's 2nd birthday.  With their ever-changing preferences, I think it's a safe bet that Miles could want something else by July, and because his birthdays are always during our vacation week at the beach, we've never really done a big deal birthday party at home.  But now we have and I want to tell you all about it!
**Edited to Add – Check out my new post with Octonauts Halloween Costumes!**
The Decorations
Because the Octonauts are so new to the U.S., there is no licensed merchandise available yet and definitely no party decorations, so I was on my own – well, with the help of the Internet and !  I wanted to stay low-budget, so I did all of my shopping at Walmart and The Dollar Tree!  I really lucked out with what I found at The Dollar Tree!
Jellyfish
I found and I made my own with plastic bowls, paint, googly eyes, and curling ribbon!  These were a little time-consuming, but I'm really pleased with how they turned out!  I put them all over the place and loved how they looked hovering over the food.
Schools of Fish
This is an idea I had on my own, to make some schools of fish and hang them from the light fixtures in the dining room and kitchen with dental floss.  I also cut out some circles from wax paper to be bubbles.  I made one set from a package of die-cut fish I found at The Dollar Tree and another set that I cut out from construction paper.  I had a few extra that I hung from doorways mixed in with crepe paper "water."
I also had a large package of 30 blue die-cut fish (slightly different from the ones used in the hanging fish) that we used for several purposes, including just sticking them on the walls all over the house.  I really liked using so many fish and it helped to take the theme all over our house for the party.
The Tables
I used cheap plastic tablecloths (blue, of course) on both tables in our house and put some die-cut nautical shapes from The Dollar Tree on them.  The package I found had anchors, boats, crabs, and all kinds of cute shapes that went with our theme (30ish shapes for $1!).
In the middle of the dining room table was a DIY centerpiece that was a slight disappointment.  I had seen this of using blue Jello in a glass bowl with floating candy fish and thought it would be great.  Well, my Jello was too dark of a blue and I do NOT recommend doing this with Swedish fish.  They got really icky floating around in Jello for 12 hours.
I made this up the night before the party and because of the timing, I had set an alarm for 1:30am to get up and put those stupid fish in the Jello!!  I couldn't stop laughing as I was putting them in, thinking how it looked like something from a documentary on the Chernobyl fish or some kind of PSA about why you shouldn't litter near waterways.  Ha!  But for a kid's birthday party, it was cute enough.  I also made up some little Jello cups (I tried to refrain from calling them Jello shots!) with 2 Swedish fish each for the kids, which they seemed to love.
The HQ and Birthday Boy Table
I had some extra tablecloth after trimming them to fit my tables, so I hung up a large piece in the entry hallway and one behind the small blue table where Spencer would eat his cupcake and open his gifts.  I put some of the fish and nautical shapes on each one so that they would look cute for pictures.  The one in the entrway I called the HQ and told the kids that we would meet there every time I had instructions for them.  After everyone arrived we met there to take a group photo.
The Food
The party was at lunchtime on a Saturday, so we went with a light, cheap, and easy food spread.  We had hot dogs, baked beans, chips, and cupcakes.  We thought about doing a big cake for Spencer but decided to do a larger cupcake for him.  I found some Octonauts images in circles that we printed off to use to top our cupcakes (yes, just on paper that they had to take off before eating, but oh well, they were cute!).  I also had Whales (generic Goldfish crackers) and leftover Swedish fish.
One thing I decided to try that was a big Pinterest win was .  I completely forgot about the ice cream until my mom reminded me!  They were so out of the way and it took no time at all to distribute ice cream to everyone at the party.  I used extra-large cupcake liners and I recommend giving them to people on plates, because the liners aren't all that sturdy.  Dealing with cake and ice cream at parties is always such a hassle and time suck and I was thrilled that by having cupcakes and pre-measured ice cream we didn't have to waste a lot of time.
But wait!  There's more!  Another post about the fun and games we had at the party can be found here!