I'm back with more from Spencer's Octonauts party!  If you want to read about the decorations and food we had, start with Part 1! Also, please check out my Octonauts Halloween Costumes post!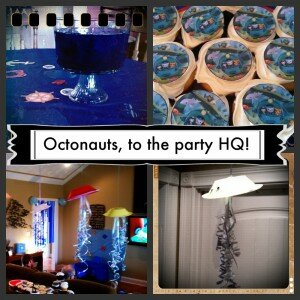 The Party
Our party started at noon and here's basically what we did:
Met the kids at the HQ to explain they were to come there when called to get instructions

Lunch (with Octonauts episodes playing on the TV in the living room)
Pin the Patch on Kwazii game
Craft table
Fishing game
Cupcakes and ice cream
Gifts
Fun & Games
We had eight children at the party, ranging in age from 2 (the birthday boy) up to 6, so instead of just letting them run around my house like maniacs, I decided to plan a few games and activities!
Pin the Patch on Kwazii
I found a PDF file for a (you get it via Scribd.com).  It's just a one page document and you make your own eye patch(es) for the game.  I opted to "laminate" the sheet and 2 patches (cut out from black construction paper) with clear contact paper so that they would stay clean and we can re-use them whenever we feel like it.  I set up our game in the entry hallway, next to the HQ.  The littlest kids didn't want to be blindfolded, which was fine!  All the kids had fun trying to put the patch on Kwazii's eye, blindfolded or not.  After they took a turn, they got a cupcake liner full of Whales/Goldfish as a prize.  I could have done real prizes but decided food was good enough!
Craft Table
I found a package of ocean crafts at Walmart.  It has everything you need to make several different crafts (a necklace, shell decoration, starfish photo frame, dolphin ornament, and a fish bowl):   foam sheets with patterns to cut out the basic shapes needed, sequins, glitter glue, foam stickers, and string.  There was a little more prep work needed than I anticipated, lots of cutting out and poking out the stickers from their sheets, but it gave the kids something to do and something to take home.   I think it was a hit!
If you're short on time, you could also print out some of the coloring and activity sheets from Octonauts.com!
Octonauts Hats
As the kids arrived at the party, I greeted them by asking if they wanted an Octonauts hat.  I found these (from UnderseaHeroes.com, a GREAT Octonauts resource!) and decided to make a Captain Barnacles style hat.  I used blue construction paper and cut out the shape for the front of the hat, glued the cut out logo to the middle, and then glued two longish strips of white paper to each side so that I could fit it to each child's head.  The kids loved them and goofy ole me wore my hat the entire time!  Would you believe one of the partygoers wore her hat to church the next day and asked another child who had been at the party "Where's your Octonauts hat?!"

The blue fish in the photo next to the Octonauts hats were given to a representative from each family.  We asked them to write a little note to Spencer for his birthday and I'm going to put them in a scrapbook or his baby book.  I thought that would be a neat way for us to remember the day.
The Fishing Game
One of Spencer's birthday presents was a fishing pole and that was not by accident.  I bought it with plans to use it at the party.  Growing up, one of the never-fail activities at my summer birthday parties was playing the fishing game off our back porch.  Each of my friends at the party got to go fishing for prizes (for some reason I recall there being a lot of Pixy Stix as prizes!).  I decided to bring back the ole fishing game at Spencer's party — with a twist!  (My mom said "Oh so you HAD to make your fishing game better than mine, huh?!

The kids got to put the fishing pole over a sheet (hung in a doorway off the kitchen) and my husband attached an item to the fishing line.  I made up goody bags with a crazy straw, ocean creature eraser, and a few plastic sea creature toys — all from The Dollar Tree.  Some kids got the goody bags at first but some of them got a funny gag gift instead — a (clean) diaper, a spoon, a mitten, and Miles got a (clean) pair of his undies!  I told the kids beforehand that they might get something silly and if they did they could go again.  The funny gifts got a lot of laughs and the kids seemed to enjoy their goody bags!
We had so much fun at Spencer's party and I can't think of much that I would do differently!  It was a blast playing party hostess for the day and I have saved the jellyfish, Kwazii game, and the schools of fish in case any local friends want to use them or just in case Miles does still want an Octonauts party in July!  I hope these ideas help you out if you have an Octonauts fan with a birthday coming up or even if you're doing a regular ocean theme party!