May is National Foster Care Month! If you've been wondering if foster parenting is right for you, take the next step TODAY and contact a local foster care agency! See the bottom of the post for a quick update on our foster parenting!
You don't have to be perfect to be a foster parent, but it sure does help to be organized! Now here's a little secret for you:  I like the idea of organization, and every few weeks I will declare that "We're getting organized around here, people!" but honestly? I'm a slob. I'm terrible about returning things to their rightful place and don't even get me started on the piles of "I need to sort through those" papers that collect around our house. It's hard, y'all!
So while home organization systems are great in theory, I find that I rely on my phone quite a bit. And not just for organization, for the scheduling, the phone calls, and more! Here's a list of apps we frequently use as foster parents: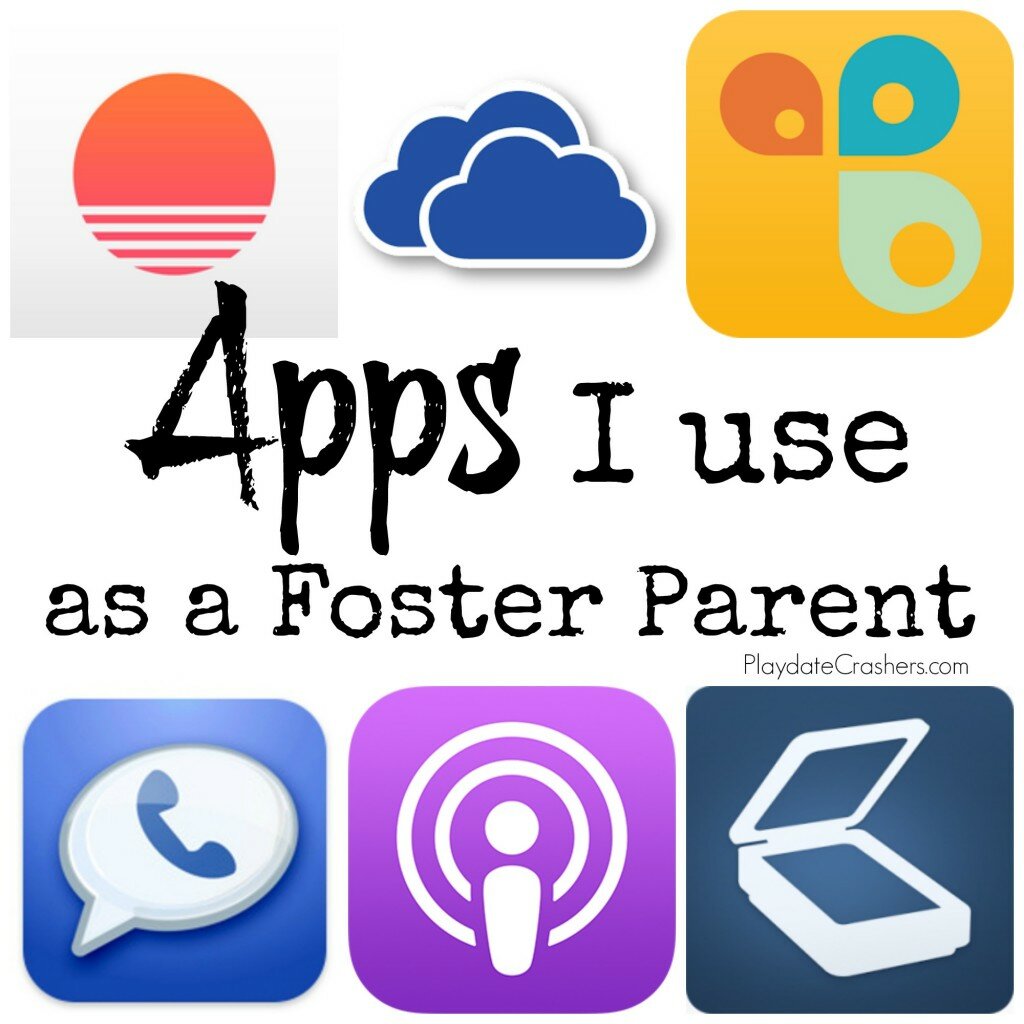 Cozi (iOS/Android, Free)
I've written a standalone post all about how Cozi saved my foster parenting sanity, but it deserves another shout out! We use Cozi every day to keep track of the appointments coming up for all of the members of our family. We also use it to keep up with lists – shopping, To dos, etc. I use it monthly when preparing our financial statements for our agency. What did we do this month and where did we go? If it's not in my calendar, it didn't happen!
Sunrise (iOS/Android, Free)
So I have my Cozi calendar and also my Outlook calendar at work, but I needed them to all come together nicely. It required a little bit of a workaround – subscribing to my Cozi calendar with a Google calendar and then syncing the Google calendar with Sunrise, which is a Windows/Office product, but finally I have everything all in one spot! The standard iPhone calendar just wasn't doing it for me.
Here's another awesome thing that I love about the Sunrise calendar – you can use it to add the Meet keyboard to make scheduling with others an absolute snap. Read more about that here: https://sunrise.am/meet/ 
Google Voice (iOS/Android, Free)
Just like Cozi, my love for has its very own post here about how and why we use it. Basically we use Google Voice because it's free (unlike a Tracfone) way to have a separate/anonymous phone number to be used only for birth family contact. You can schedule Do Not Disturb times or just turn it on and off to keep from getting calls outside the appointed times. In short, it's great and you should try it if your foster kiddos have contact with birth family members!
Tiny Scanner (iOS/Android, Free*)
We live about 30-40 minutes away from our foster care agency and while we're there pretty regularly, it's usually more efficient to email items to our workers. Obviously this means that things need to be made digital, so a scanner becomes important. Most of our forms cannot be filled in electronically; they're written on by hand. So I can either scan them from work OR use an app to do it. My husband found the Tiny Scanner app, which produces high quality PDFs that you can email right from the app! This is perfect for reports, receipts, school excuse notes from the counselor, and more!
*The free version has some limitations on its features. We found it worth the few dollars for the full version!
Outlook / OneDrive (iOS/Android, Free)
In my attempt to keep our digital lives organized, I use OneDrive for our family's Outlook account. I create folders for everything – behavior reports, financial reports, receipts, etc – and attach items to emails from the app. So simple!
Podcasts (iOS*, Free)
Last but not least, I need to give some love to the Podcasts app (iOS). I'm a long time podcast listener, and within the last 2 years, I've found several foster parenting or adoption podcasts that have given me invaluable information and inspiration. The first one is the appropriately named The Foster Parenting Podcast. There are at least 120 episodes – you can follow T & W's foster care journey all the way through. I won't "spoil" the podcast, but it has a very happy ending! And I don't think they're exactly done, but they aren't podcasting regularly. However, listening to the back catalog will take you some time. I listened to all episodes last year while we waited for our first placement and I've started listening to them all again as we are in yet another season of waiting! Another great podcast for foster parents is the Honestly Speaking Parenting Podcast with Kristin and Mike Berry!
*While Apple's Podcasts app isn't on Android, there are plenty of podcast service apps available for Android devices!
What apps do you use regularly as a foster parent? Share in the comments!
An update on our foster parenting "journey":
The girls left our home in December and February. We miss them terribly! We took a short break from placements because we had a vacation planned for Spring Break. When we arrived home from vacation, we learned about a little girl needing a foster-to-adopt placement. We are midway through the matching process for her, as of May 5th, 2016. We should know something in the next few weeks!