Over the years, I've used quite a few baby monitors. It's safe to say that the technology used in monitors has definitely improved since their genesis several decades ago. Whereas you could at one time only hear garbled sound from your baby's room, you can now see, hear, talk to, and comfort your baby from wherever in your house you may be!
I had the pleasure of receiving and reviewing the Levana Keera PTZ video baby monitor – a sleek monitor with lots of great features!
This baby monitor was introduced in 2014. Here's how it arrived:
Here's a quick rundown of the features of the Levana Keera PTZ Baby Monitor:
Smooth & Silent Pan/Tilt/Zoom Camera – The camera can be moved from the parent's unit in almost every direction! No worries if the camera got slightly jostled – you don't have to go back into baby's room and risk waking her!
Touch Panel and Icon-Based Menu – You won't need to fumble around in the dark, because the touch panel is lighted!
Record Video and Take Photos – Catch your baby doing something adorable? You can catch it in video AND photo forever!!
24-Hour Battery Life (in PEEP mode) – When using the Power-on/off Energy Efficient Picture (PEEP) mode, your battery's life will be extended but you'll still be alerted if your baby makes a "peep"! (Get it?)
2-way Communication – I can't even tell you how much I love this. You can talk through the monitor to your baby! You can reassure your little one that you are near from the comfort of your bed!
Smart LED Communicator Ring – A colored, lighted ring on the parent unit lights up in different colors depending on the noise level in the baby's room! Very helpful if you've got the sound down.
Invisible LED Night Vision – No irritating red lights in baby's room!
Private ClearVu® Digital Signal – You can get a clear digital signal from up to 750 ft. away from the base unit! We tested this at my office (long story) and you can get a great signal so far away!!
Soothing Lullabies – You can play three different soft songs to baby's room to soothe your little one back to sleep!
Expandable up to 4 Cameras – If you have multiple areas you need to monitor (multiple kids, play room, etc.), you can now do this from one parent unit!
My review unit came with two cameras, which I set up in the boys' shared bedroom and in the playroom upstairs. I was able to find a location in each room that would give me excellent visibility of both spaces.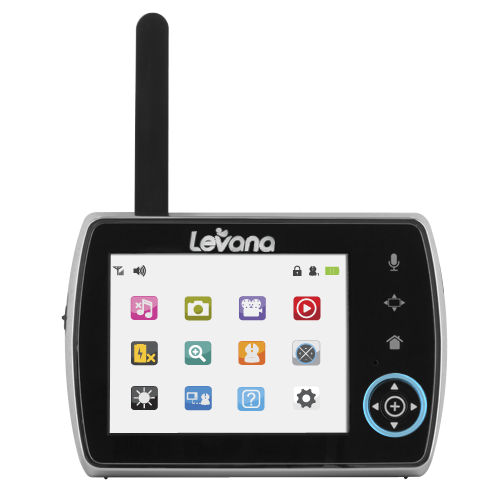 It's easy to get your monitors set up – using the control panel, you navigate to the connecting area and push a button on the bottom of the camera. It's easy to toggle back and forth between different cameras.
I love having two camera units set up. My boys are very active, so you never know where they might be. This would be great for someone with multiple kids in different rooms. The parent unit is small (a great size – I've had some that were crazy bulky), has a little easel stand to keep it upright, and a fold-out antennae in case you need some extra range. At night, the picture wasn't perfect (a little cloudy, in my experience) and the sound sometimes breaks up a bit.
All in all it's a great monitor – absolutely loaded with features without being too much! It's a great buy with a retail tag of $189.99 and you can add cameras for $109 each. You can purchase the Keera monitor on Levana's website as well as other online retailers like Amazon, Toys R Us, Target, and Best Buy.
Disclosure:  I was sent a review unit to facilitate this post. I was not paid for my post nor was I required to write a positive review.