Today's post is more than a book review, it's me opening up with something more personal than anything I've shared here on the blog in more than a year, since I went back to work full-time.
For about two years, I've had a tugging on my heart to grow our family. With two amazing boys who are currently six and nearly-five, I'm thrilled with our family but open to whatever God might want for us. For awhile, I thought it might be a new baby, but through our conversations at home and some revelations we've had in our church, we felt an overwhelming desire to begin the process of adoption through foster care.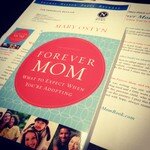 We're still at the very beginning — we've started our classes and have a big checklist of paperwork to turn in, fingerprints to be taken, classes and home visits to schedule — but we are so excited about the way our family is about to be changed.
The very week I made the first move to start the foster-to-adopt process, I was offered a book for review, Forever Mom:  What to Expect When You're Adopting, by Mary Ostyn. It couldn't have come at a better time! Mary is the mother of 10, six of which are theirs by adoption. Woven through the book are the stories of their adoptions from Korea and Ethiopia.
More than a how-to book,
Forever Mom
deals with the heart issues involved in adoption. She covers everything from bringing your child home to mealtime struggles and teenage sass. Their adoption stories run the gamut — their first adoption went off without a hitch and left their hearts ready for more; subsequent adoptions would prove to not be quite as easy for them.
So many books on fostering and adoption promise to help you "navigate the system" and cover little more than what a simple web search can deliver. Mary's book is infused with wisdom, Scripture, and practical advice that is sure to become an invaluable resource to me as we wade into the waters of "the system." If I need inspiration, there is plenty; if I need guidance on discipline and behavior problems, she provides a multitude of sound advice.
Mary Ostyn has written other books (Family Feasts for $75 a Week and The Sane Woman's Guide to Raising a Large Family) and writes regularly on her blog, OwlHaven.net. Forever Mom was released last week, just in time for National Adoption Awareness Month and Orphan Sunday.
Whether you are an adoptive parent, starting the process, or considering the call to adopt, Forever Mom is full of inspiration, honest advice, and practical wisdom for families growing through adoption. I would recommend it to anyone who is a person of faith that wants to know more about what's it's like to adopt an infant or older child, as well as new foster/adoptive parents.
Even though we are going through a different process of adoption (by fostering first) and do not plan to adopt babies or infants (although you never know what God has in store), I found Mary's book to be a breath of fresh air in a season where it's easy to be overwhelmed and bombarded by advice that isn't always positive in nature. Mary doesn't sugarcoat the hard times but she makes it clear that adoptive parents will be blessed.
Pick up a copy of Forever Mom (paperback or Kindle editions available) in bookstores, through OwlHaven.net, or on !
Disclosure:  I received a complimentary copy of the book Forever Mom from the publisher to facilitate my review. I was not paid for this post nor was I required to write a positive review.