Weather is harsh on my skin – in the winter, my skin gets incredibly dry. In the summer, it's still dry and my poor pale complexion is so prone to sunburn! In addition, my upper arms have keratosis pilaris (basically little red dots that don't itch). So you could say I have some skin issues.
In 2013, my husband and I were watching one of our favorite shows that we both enjoy, "Shark Tank". We were so impressed by this young entrepreneur, Lani Lazzari, who pitched her idea for a sugar scrub to the "sharks". Lani, who was at the time only 18 years old, started her company Simple Sugars at the age of 11 – WOW! She was composed, she was sharp, and she had a great business! Lani got a deal with Mark Cuban and Simple Sugars has experienced some incredible growth!
Simple Sugars is handmade, all-natural skincare products especially formulated for sensitive skin. They're made with pure cane sugar and all-natural oils. It could be organic soybean oil, grapeseed oil, safflower oil, jojoba oil, apricot kernel oil or sweet cherry kernel oil, depending on the particular scrub.
I was sent the new Simple Sugars Vanilla Grapefruit body scrub, a Signature Scent which is available only at BeautyBrands.com! From the website:
Simple Sugars Vanilla Grapefruit Body Scrub offers the incredibly refreshing scent of vanilla and grapefruit in a decadent body treatment. Specially formulated to treat even the most sensitive skin, this all-natural body scrub gently exfoliates skin while deeply moisturizing. You'll get super-soft, smooth skin without using additional lotion or moisturizers. Use this exfoliating body treatment daily to simplify your skincare regimen, or offer the sweet scrub to family or friends the body scrub arrives in an adorable box with bow.

Features:
– Grapefruit and vanilla scent
– Gently exfoliates and deeply moisturizes
– Softens and smoothes
– Nourishes and firms
– Simplifies skincare routine by eliminating need for additional moisturizers
– Suitable for sensitive skin
– For daily use
– Packaged in box with bow
For this particular scrub, the ingredients are pure cane sugar, organic soybean oil, grapeseed oil, cherry kernel oil, apricot kernel oil, organic grapefruit zest, tocotrienols (Vit E), fragrance, essential oil, citric acid. It comes in a 5 oz. container for $15.00 or 8 oz. for $18.00.
I used Beauty Brands' exclusive Simple Sugars Vanilla Grapefruit scrub on my skin every day for a week and let me tell you – it's incredible! You start off scrubbing it into your skin and it feels like a regular exfoliating scrub (except it smells AMAZING) but then the sugar dissolves into your skin, leaving it so moisturized and so smooth you just won't believe it. And let's talk for a moment about the smell – you'll want to dig into it like a dessert, but don't do it

Have you seen the list of scrubs at SimpleSugarsScrub.com? Coffee, Lemonade, Tangerine, Raspberry – YUM!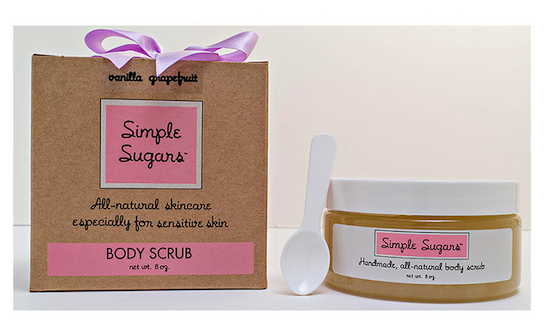 My husband and I just returned from a cruise to celebrate our 10th wedding anniversary. We got pretty badly sunburned in the Bahamas and I used Simple Sugars on my chest and my face (probably not specifically recommended) and it helped SO MUCH! My face was peeling before use and it completely cleared it off. My chest was a hot, peeling mess that was all cracked and sore – after using Simple Sugars, the peeling is reduced, it's not dry and flaky, and I'm recovering much quicker! And that's just with the regular Body Scrub – Simple Sugars has a special Sun Scrub!
Simple Sugars has body scrubs, facial scrubs, foot scrubs, even Smooth for Men, a special line of scrubs for men! They also offer gift packages (for my family – THIS IS A HINT), from $23.95 up to $74.95 like the Variety Sampler, Pedi in a Box, and Smoothness to Go!
You can find more on Simple Sugars and Beauty Brands! Support this young entrepreneur and get your skin in shape by using Simple Sugars!
Disclosure:  I was sent a complimentary sample to facilitate my review. I was not paid for this post and was not required to write a positive review.