Oh hi! *waves like a dork* It's been awhile, huh?
Yeah, I've been the worst kind of blogger-slacker in the past year, the kind that says "Y'all I'm gonna change my ways and really get my act together" and then never does. So sorry 'bout that. I could tell you I'm just super busy, but everyone is super busy. It's more that I can't get motivated to sit down and write. But every so often, I have a post I really want to write and I just MAKE myself do it, and today is one of those posts.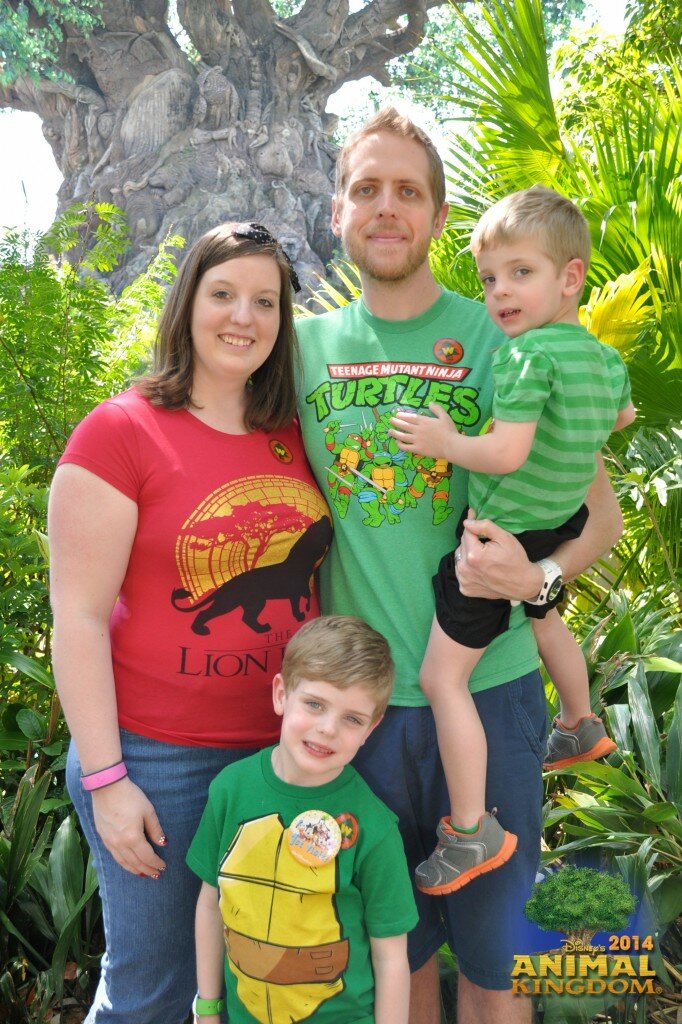 Most of you who know me in real life or who follow know that I've been planning our family's first trip to Disney World since October and we took our vacation two weeks ago during our Spring Break, March 31st-April 4th. I became pretty wrapped up in all the planning and really did a lot of research and work to make our trip memorable, so I did want to cover it here on the blog.
The only problem is that there are about sixteen bajillion (I'm estimating on the low end) definitive posts on How To Do Disney World With Kids blog posts out there, so I just want to cover the things that YOU want to know. So I asked on Facebook what questions you had for me and now I'm going to answer them, in no particular order:
1) How did all your meticulous planning pay off?
I have one of those personality types where if I find something I'm really interested in, I will relentlessly pursue it until I pretty much exhaust all resources. Not surprisingly, since I was so insistent that our family take this vacation, I jumped in with both feet and really sought out the best resources on the Internet. My two favorites are WDW Prep School (and WDW Prep To Go, the podcast companion) and TouringPlans.com. I paid for a Touring Plans membership to create customized "touring plans" for each day of our trip that included estimated wait times, durations, and walk times to the next attractions. I used input from WDW Prep School and Touring Plans's writers to come up with what I thought would be the best touring plans for our family, which consisted of my 4 year old, 5 year old, my husband, my parents, and myself.
I'm happy to report that with my planning and some improvising, we were able to see and do everything that was important to us, and many things we were able to experience twice or more. I'm not saying there weren't surprises along the way, but for the most part, I felt prepared for each day and what we would have to do in order to use our time wisely.
2) What is worth using fast passes for at each park?
This is really going to vary for each group, but I'll tell you what we used ours for at each park:
Epcot – We used our Tier 1 FastPass+ reservation on Soarin'. Because of the way Epcot currently structures their FP+, you get ONE FP+ reservation from a list of the top attractions at Epcot. We did NOT use a FP+ for Test Track and ended up waiting in line for over an hour, by far our longest wait of the trip. The wait time was supposed to be 60 minutes, but the ride was broken down while we were waiting, so obviously that added to the time. We could have used FP+s on Mission Space: Green, Spaceship Earth, etc., but the wait times were 10 minutes or less for everything else. There's no reason to use a FP+ on rides where the wait is 20 minutes. Some sources say if a wait is 30 minutes not to use your FP+, but sometimes you need those 30 minutes. Anyway, I'm just sayin', we saw a lot of people using their FP+ reservations as we got into the "standby line" and we literally walked on to the ride together. What is the point of that?
Animal Kingdom – AK does not currently have a tiered FP+ system, so you get 3 and can choose any attraction that uses FP+ (all of them do at AK I think). We used ours for the Safaris right after our breakfast reservation, but we might not have needed to use them. It was hard to tell how long the line actually was, and we didn't need them for anything else, so we just used them. Our 2nd FP+ Brandon and I used on Expedition Everest. We were able to wait 25 minutes and ride it once without FP+ and afterward when the line was longer, we used our existing FP+. We planned to use our 3rd for Primevil Whirl, but it was shut down. By that time, we had done everything else and Primevil Whirl was to be our last stop before leaving the park.
Hollywood Studios – We used our FP+ for Toy Story Mania, but we rode it first thing with only a *maybe* 20-minute wait. So we rode once "standby", stood in line to meet Buzz and Woody, then re-rode it with FP+. We had planned to ride Rock 'n Rollercoaster first thing, but in the moment I decided that the boys really would want to ride Toy Story Mania twice, so I sacrificed. We (Brandon and I) later waited in a maybe 30-minute line for RnR after we rode Tower of Terror (once without FP+, once with).
Magic Kingdom – We took 2 days to do Magic Kingdom, so we had 6 FP+ to use over 2 days. We used ours for Peter Pan's Flight, Splash Mountain (rode once with FP+, once without), Big Thunder Mountain Railroad, Space Mountain, Buzz Lightyear's Space Ranger Spin (1x with FP+, 2-3x without…our boys really liked it and there was almost no line), and Pirates of the Caribbean. Our FP+s didn't work exactly perfectly at Magic Kingdom. There's just so much to do there that it was hard to make all the timing work out. I also didn't find that they were easy to change using the My Disney Experience app once we were in the park. We were still able to do and see everything, it's just that the FP+ didn't end up being super advantageous every time.
3) How long it takes to get from resorts to park?
I had planned for an hour's transport time, but it ended up taking about 30 minutes. We stayed at Art of Animation, which is a value resort, but it has its own buses, meaning that we didn't have to stop at other resorts. The buses arrive at AoA about every 15 minutes (shorter time for Magic Kingdom because they run more buses there), and then it was about a 15 minute ride to each of the parks. Sometimes the buses were crowded, but mostly it wasn't bad at all. At the end of the day, that 15 minute wait at the bus stop can be brutal, but it's all part the experience — one of those things you laugh about later.
4) When you told your boys and how?
We told the boys at Christmas, a little over 3 months before our trip. I briefly considered trying to pull off a surprise trip and in the end, I'm glad we told them. First, I'm not good at secrets and I hate surprises. I know my kids and I know they prefer to know what's going on. Second, we could talk about the trip for 3 months and really hype it and use the excitement to get more money's worth! Third, we did a countdown chair that the boys loved. Fourth, surprises are risky. Everyone wants their video to go viral with an awesome reaction, but kids are kids and their reactions can't be predicted.
Anyway, I hired this guy on Fiverr (at WDW Prep School Shannon's suggestion) to record a "voicemail" from Mickey and Goofy. He charged me $5, sent me an audio file, which I added some photos to, and put the video on my phone. We played it for the boys on Christmas morning.

They totally bought it and thought Mickey and Goofy had called them. Many of you also saw my photos of our little "Mouse in the House" gifts from Mickey in our final 10 days before the trip. I think they really thought those were coming from Mickey too!
5) Did you plan everything out for each day or let the boys decide on some things once in parks?
I did have most things planned out for each day. We had one meal reservation each day (more on that later), and our touring plan (with FP+s) which included all of the attractions, parades, and shows that we wanted to see. Now — was I totally tied to the schedule? Nope. I had a general idea of where we would be and if we *had* to be someplace for a reservation, but we were flexible. Like I said earlier, we rode many things multiple times, just because the boys wanted to do it. And then we had planned to take midday breaks earlier in the week but we didn't do this until our Magic Kingdom days because it didn't make much sense in terms of time. I think it's really important to be flexible. Have a general plan and know where you plan to go, but you have to be willing to change.
Okay, I'm 1500 words in and I've only gotten to about half of the questions. So in another post (soon, I promise!), I'll cover these questions and more:  Did you feel like your camera was a constant attachment? What did you think of those strollers you took? What are the must do things? And I'm planning an entire post just on the character meals. More to come!
What else do you want to know? Tell me in the comments!