As the parenting product industry rapidly increases, it's becoming easy to find and buy gifts for moms. But what about the dads?!
DaddyScrubs is a dad-founded and dad-run company that makes fantastic gifts for dads! I met the DaddyScrubs team two years ago at the ABC Kids Expo and they have such a passion for fatherhood! I love that they are making great items that dads love and will actually use!
The first line of products that brought the company into the parenting spotlight a few years ago were their scrubs for dads – DaddyScrubs, designed to make it clear to everyone around the delivery room that the daddy is Daddy, not the doctor! They also have Daddy t-shirts, hoodies, caps, diaper backpacks, and so much more. Their styles have branched out from their classic "Daddy", and we got to try one out at our house, the Periodic Table of Daddy Elements t-shirt!
My husband absolutely loves his Periodic Table of Daddy Elements t-shirt from DaddyScrubs! It's a cute design with even cuter jokes in the "periodic table."
Here's a close-up shot of the Periodic Table of Daddy Elements: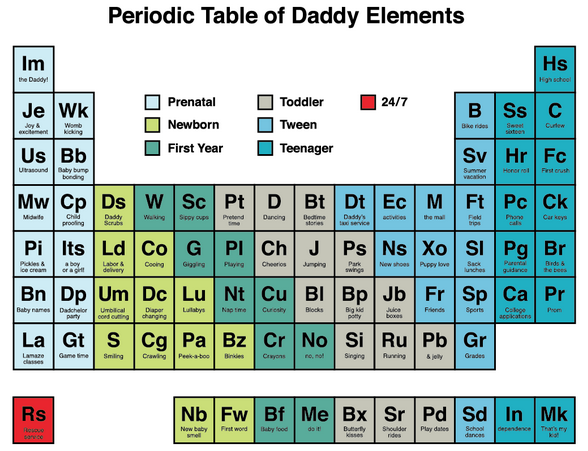 So cute! I love how they totally cover all of the bases! My favorites are Pb (& jelly) and of course Pd (Play dates)!
This shirt is a conversation starter for sure, everyone wants to see what's on the shirt. There's so much that dads at all stages can relate to. From Pickles & ice cream to Prom, the Periodic Table of Daddy Elements is a sweet reminder of all the things dads are great at doing for their families.
Take a look at some of these other great DaddyScrubs gifts:
Word Search Daddy Pajama Pants
I'm the Daddy Baseball Tee
Love Daddy Boxers
The Daddy Diaper Pack  recently won the SheKnows 2013 Parenting Award and it's easy to see why! The Daddy Diaper Pack has roomy pockets, an insulated cooler pocket, and straps for keeping your essentials close at hand!
DaddyScrubs has so many gifts for dads in your life, whether they're expectant dads, new dads, or expert dads! Go shopping for the dads on your Christmas shopping list at DaddyScrubs.com!
Disclosure:  DaddyScrubs sent us one complimentary t-shirt in exchange for our honest review. I was not paid for this post and I was not required to write a positive review.