Every once in awhile, a product comes along that I think "It's so simple, but so brilliant!" PlayTape is one of those products — it's tape that looks like a road, perfect for boy moms!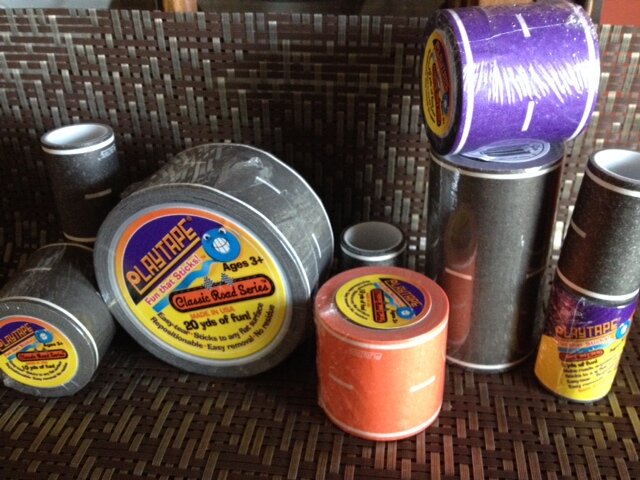 I was so excited to get some samples of PlayTape from InRoad Toys. It comes in multiple colors and widths and easily sticks to all kinds of surfaces without the fear of it leaving a sticky residue. We used it on our hardwood floors as well as our walls, left them on for a few days, and they came up quickly without leaving a mark!






I had the opportunity to ask some questions of the creator of PlayTape:
1) What was your inspiration for the creation of PlayTape?
PlayTape was created out of necessity. In 2002, Brian Musliner, the youngest of my three boys, was 3 years old and a veritable car fanatic. All he wanted for Christmas that year was "A Big Box of Cars." And that's exactly what he got. Dozens of them. (See photos below and notice the cars on the pajamas). But then the obvious question arose: Where do you drive them all? There are millions of toy cars in the market, but there are no toy roads. That challenge set Brian's father, Andy Musliner, on a 12-year quest to design the perfect toy for building roads…anywhere. In 2014, the world was introduced to PlayTape, the fastest, best way to create roads. Now almost 16, Brian works on strategy and merchandising for the product he so desperately needed when he was a young boy.
2) What is the most creative way you've seen PlayTape used?
First a smart parent: One of the earliest, best examples of people using PlayTape creatively and smartly was a clever parent who realized they could take a car and a roll of PlayTape roads to a restaurant and keep their child busy both while they were waiting for food and after they had finished it. Their son had an entire playscape created on the restaurant table, which was undisturbed by the food arriving. Happy kids. Happy parents. Pleasant meal.
Then a clever child: We gave PlayTape out at a Cub Scout Pinewood Derby event, along with some toy cars to use to play with it. One 3-yr old found a toy steamroller amongst the cars we brought. He put the steamroller in front of the roll of PlayTape and then pushed the steamroller which rolled out the road, just like in real life. Very clever.
3) Who do you think loves PlayTape more — the kids or adults?
Tough call. I get a lot of parents who say with envy, "Where was THAT when I was a kid?" The simplicity of PlayTape also appeals to the parent who wants their child to use their brain to think creatively. We are honored to hear "Brilliant!" frequently from parents who describe PlayTape. But the smile on a child's face when they proudly show off their own PlayTape creation is what's most rewarding. People send us their home videos. We don't necessarily get permission to show them publicly but they are great. One story is particularly telling: A 5-year old boy was happily rolling out PlayTape road for a good long while until he ran out of PlayTape. He cried for 20 minutes until his mother painstakingly unstuck some pieces he had semi-wadded up and tossed aside. I don't know of a parent who has cried over PlayTape yet 😉
I also shared my samples with the preschool teachers at the school where I work. They were equally impressed with the product and used it with their students to create letters on the tables for the kids to drive cars over as they practiced the letter's name and sounds. This type of tactile stimulation and multi-sensory experience really helps drive home (see what I did there?) this fundamental knowledge.
My boys loved having their special road in the house, it totally saved the day on a rainy afternoon! This is such an easy thing to keep around at home or in the car for your kids and can keep them occupied for hours as they keep building on to their towns and cities!
PlayTape – available in the Classic Road Series colors of black, orange, and purple (various sizes) and now their Classic Rail Series (railroad tracks!) at www.inroadtoys.com for the price point of $7.99-12.99!
Disclosure:  I received complimentary samples of this product in exchange for my honest review. I was not paid for this post or my opinion. All opinions are my very own and I was not required to write a positive review.