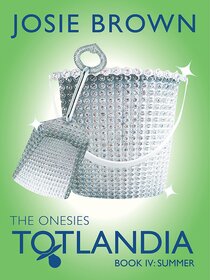 The Moms are back and at it again! Those lovable and love-to-hateable members of the Pacific Heights Mom & Tots Club are back in action in Totlandia:  The Onesies (Summer) to conclude the full year of The Onesies!
When we last saw Bettina, Lorna, Ally, Jillian, Jade, and the other ladies, things were looking pretty grim for the future of the club moms' friendship. How could they weather such storms:  betrayal, unrequited love, lies, and scandal?
Here's the official book tease from the Totlandia website:
As summer sizzles in Totlandia, emotions boil over for the newest members of Pacific Heights Moms & Tots Club, whose trust in each other is sorely tempted by Bettina and her club politics.

When Jillian's vindictive joke backfires, she learns the true meaning of forgiveness.

Jade's betrayal puts her in a dangerous downward spiral with no bottom in sight—until she finds friendship and redemption where she least expects it.

Lorna faces the biggest trial in her marriage, and makes an important decision that may end it for good.

While Ally may regret the choices made she to get accepted in the club, her exile puts new opportunities in her path, thanks to Brady and his ceaseless desire to win her over—with Barry's help, who is playing his own little game with the Top Moms Committee.

But it's Bettina who suffers the ultimate punishment—one that changes her life, and the livelihood of the club, forever.
Author Josie Brown takes her readers on another fun ride through the lives of the PHM&T moms but this book has a little more heart than the first three. The women have made some serious choices and they're having to own up to them now. Once they see the effects their words and deeds have on those around them, the ladies have to deal with it and in some cases, apologies are in order.
The book, while dealing with very grown-up issues, does give some giggles at the expense of the super over-the-top Bettina and crew. I loved the jokes about an art themed birthday party for a 4 year old, where the pint-sized guests would be dressed as famous artists. Can you imagine??
At the end of the book, it's clear that things won't be the same when we meet up with the Pacific Heights Mom & Tots Club again. BIG changes are in store for at least two members. There is some good resolution for a few of the storylines, but there's still much to discover about the ladies and their lives. There's one Top Mom Committee member whose comeuppance I'm (im)patiently awaiting! She's got it comin'!
For anyone who loves a fast-paced book that delivers laughs and heart, pick up the Totlandia series, available individually or currently in a 4-book series pack, for nearly all e-readers! They're a quick read that you'll love to talk about with your playgroup moms!
Disclosure:  I was sent a complimentary copy of this book to facilitate my review. I received no compensation for this post and my opinions are my own.